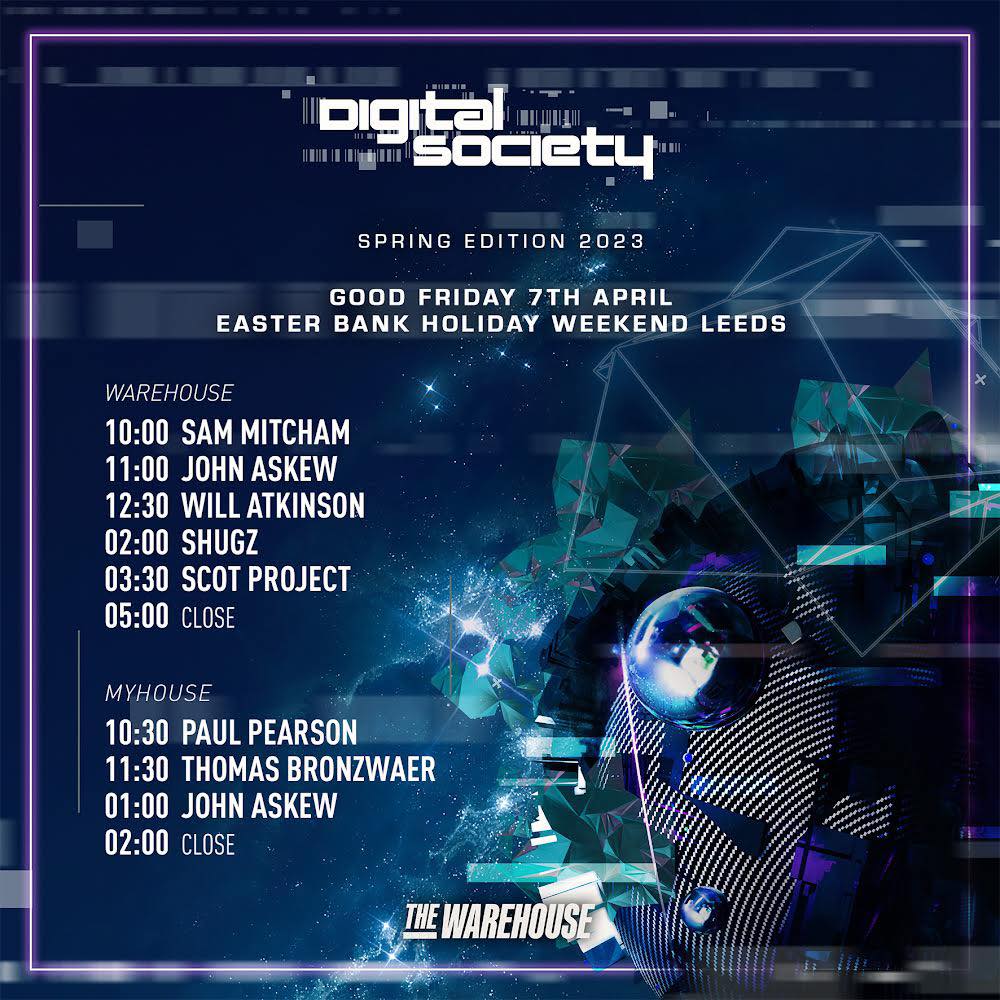 Re-mixed and Re-modeled for 2023! Fresh off the back of the roadblock Winter Edition launch, the Digital Society Spring Edition arrives in stunning fashion! Returning to the brand new refurbished WAREHOUSE in Leeds, for a dual room dimension of Trance to a backdrop steeped in musical pedigree. Championing a cutting edge main room built around a modern headliner, and supported by the finest hand picked international acts pushing forward and into the future, and eloquently complimented by an exciting twist – The MyHouse Room – a retrospective, intimate experience dedicated to the favourite DS acts and sounds from years gone by which helped cement the building blocks of Digital Society over the last 16 years. The undisputed home of Trance in Leeds!
For the second edition in the series, Digital Society welcomes one of the hottest acts in the UK – man of the moment WILL ATKINSON! Joining Will on this epic lineup is UK Trance heavyweight JOHN ASKEW, Hard Trance legend SCOT PROJECT, and another of the hottest artists in the scene right now, Irish hero SHUGZ! all ably assisted by Digital Society resident SAM MITCHAM.
Getting nostalgic in the MyHouse attic, Digital Society hosts JOHN ASKEW for a second performance of the night and a very special one-off 2007-2009 era set – as well The Netherland's maestro producer THOMAS BRONZWAER who debuted in the UK with DS in 2007! Completing the modern classics and forgotten gem's will be Digital Society past resident PAUL PEARSON.